Our true enemy isn't stupid.  He wages a very strategic campaign against our kids for one purpose, to drive them to him and to their mutual destruction.
In a 2011-12 report, 1 in 20 children, or roughly 2.6 million suffer from depression or anxiety.  Several signs that can be seen range from loss of interest in things that were once fun, loss of concentration, sleep increase or decrease, and various other symptoms.  Depression/anxiety is an undeniable occurrence and needs to be treated in every sphere of a child's life, and with that, I want to talk about the spiritual aspects.
What is depression?
If you want to get simple about it, depression is "feeling sad", but I think that people going through it would best identify with the description below:
"I've come to best understand depression as a void, as an absence of experience where an emotional life should be. It is a profound alienation rooted in the negative space of disconnection — disconnection from other people, from a place in the world that offers authentic expression, disconnection from oneself, from one's right to exist in harmony with other living things." ~from What Is Depression?. (2019). Psychology Today. Retrieved 22 February 2019, from https://www.psychologytoday.com/us/blog/the-full-spectrum/201810/what-is-depression
It can start off simply enough, but with prolonged sadness, loss, fear, anxiety, depression can lead to a much more serious condition.  Grown numbers of kids are feeling something that, at one time, was only experienced by adults.  More and more children between the ages of 10 to 18 are being prescribed anti-depressants, seeing therapists, physiologists/psychiatrists and more just to get them through.  As a Christian, I wanted to draw upon the Bible as well as my past experiences to try and put a different take in this area.
What does the Bible have to say about depression?
One of the first passages that comes to mind when I think about depression can be found in Isaiah:
"To console those who mourn in Zion, To give them beauty for ashes, The oil of joy for mourning, The garment of praise for the spirit of heaviness; That they may be called trees of righteousness, The planting of the Lord, that He may be glorified." ~Isaiah 61:3
When I've talked with people who have or are going through depression, the part marked in bold seemed to really resonate with them "…the spirit of heaviness."  While many other emotions would be a part of their existence, most, if not all, would identify the idea of a constant "heaviness" throughout their life.  For me, looking at depression/anxiety from a spiritual point of view, I identify depression as a form of spiritual attack, and it's a potent, paralyzing one that can affect anyone, Christian and non-believer alike.  If you don't know how to fight off this spirit, and it is a malevolent spirit (demon(s)), you will lose.
My personal experiences
When I was in the Occult, I would engage in the world of the spirit.  To put it into a new-agey type of terminology, I would go into the astroplane and "curse" people.  Continual cursing from my end, would make people physically ill, but prolonged attacks of a certain nature can bring about sadness, then depression and anxiety.  Unclean spirits, and some of them do have names, as stated in the Isaiah passage, will, and are, attacking our kids for 2 specific purposes:
To bring about torment and suffering of a person with the end result being their destruction and the torment of those around the depressed individual as they cannot truly help them.
To torment a person as to drive them into the arms of "a savior" (not Jesus), thus bringing about a generation that will listen to the Devil more because they have "answers" that bring them out of their depression.
If you want a more detailed view of this, watch the video below.
Understand, I'm coming at this from a spiritual perspective and I will say, quite boldly, that the spiritual perspective as I have stated above, is where the real battle is going on.  Drugs, therapy, and the like, are answering a problem too late in the steps.  The natural and "traditional" methods that most practice to combat this growing epidemic is like fighting an enemy that has already gained a foothold into your territory.  In the words of many politicians when they talk about our wars in the middle-east against terrorism, "I'd rather fight them over there than in our neighborhoods."
Ok, so how can we fight depression?  What does the Bible have to say about waging war?
In doing a sermon several years ago, God gave me this flowchart to describe what all humans on this planet go through with regard to cause and effect.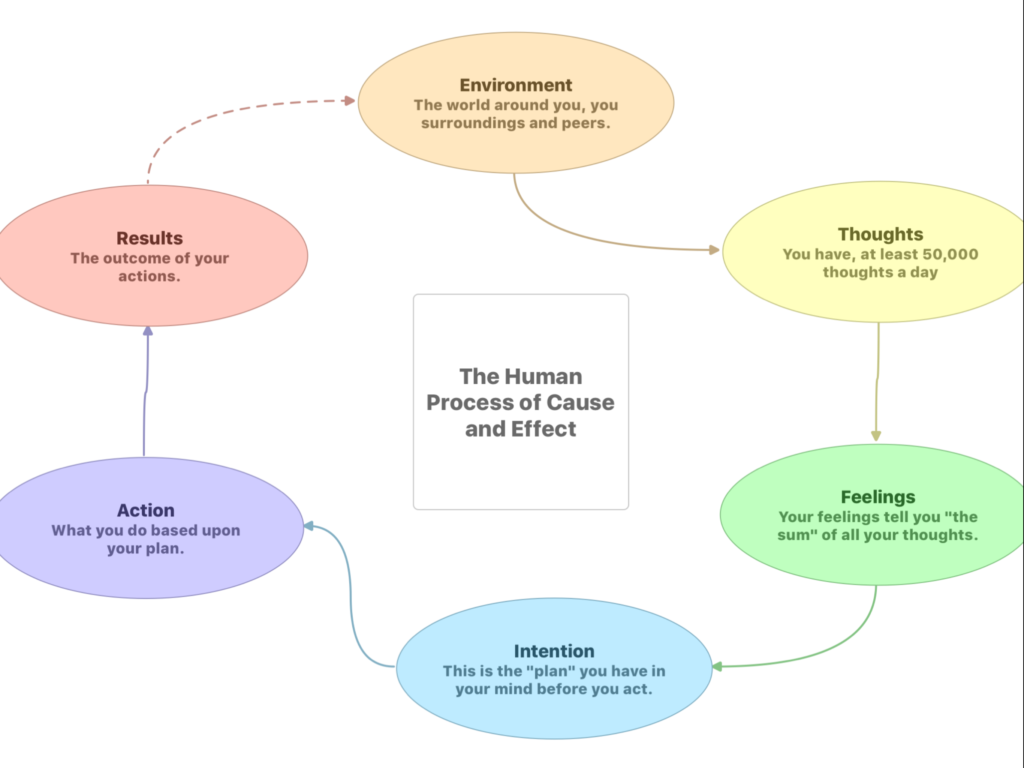 No matter who you are, no matter the country you live in, the time you were born, race, economics, etc., this is the flowchart of cause and effect for us humans on planet Earth.  The key is not to change our environment, for which we have very little control, but our thoughts and thought process.  The Bible teaches two very important lessons in this area.
"All Scripture is given by inspiration of God, and is profitable for doctrine, for reproof, for correction, for instruction in righteousness, that the man of God may be complete, thoroughly equipped for every good work." ~2 Timothy 3:16-17 NKJV
-and-
"And do not be conformed to this world, but be transformed by the renewing of your mind, that you may prove what is that good and acceptable and perfect will of God." ~Romans 12:2
In a nutshell, the passages are telling all of us, Christian and non-believer alike, that scripture holds the key to changing our thoughts and through processes.  Under the authority of Jesus Christ, every Christian has the power to take control, to understand and embrace a new identity (2 Corinthians 5:17).  I say this specifically to Christians as we are not immune to the attack from the spirit of fear (2 Timothy 1:7) and heaviness and we need to renew our minds in our new identity.
When I come under attack, I use scripture to beat those demons off!  I boldly, and loudly, speak them aloud and embrace my new identity in Jesus Christ.  Resistance can take time as demons of this type are resistant, but we are to resist and they'll run (James 4:7).
The network of demons that are in our lives as well as in the lives of those around us is quite vast.  This simple chart that God gave me one day in prayer illustrates a very, very simple example.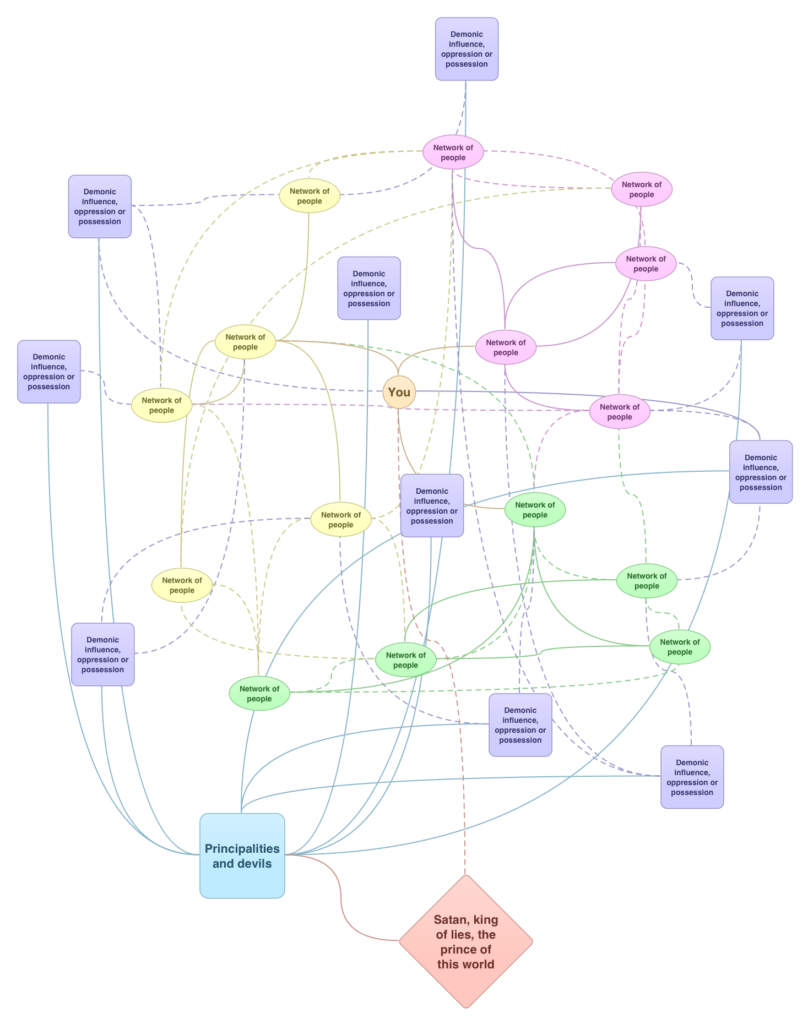 Ok, so I'm not in a state of depression, but a loved one is, how can I help him/her?
First and foremost, I don't want to be the guy that doesn't give help to all, but only gives help to some.  I'll talk about what each person (Christian and non-believer) can do.
For those of different faiths or non-believers:
I'm not going to proselytize Jesus to you, but if you are feeling called to take Him up as your Savior, asking forgiveness, believing that He rose from the dead, then do so now.  Having said that, if you feel that you are going through depression/anxiety, please seek help immediately.  Listed below are places you can contact to get you on a track to a brighter future.
For Christians:
If you are not used to waging war in a spiritual sense, find a Christian that is mature in the faith and partner with them.  Two working together is better than going it alone (Ecclesiastes 4:9–12).
If you are by yourself and you start to have thoughts of sadness when nothing has triggered them or you being to have a "feeling of heaviness", depression or sadness that is "something different", you MUST start your vocal battle immediately!  Call the demons out by name, as they actually have names, and quote scriptures at them as the Word is our only offensive weapon, and it's sharper than any sword that has ever or will ever exist.  You'll have thoughts in your head like "this is stupid, I'm talking to myself.  This isn't going to work", but let me tell you that those aren't your thoughts, but the whispers of unclean spirits that are triggering your thoughts…keep resisting them with scripture, applying Bible passages to you and claim victory in the name of Jesus Christ.  Always use His name ("…in the name of Jesus Christ, I have authority over you, for God didn't give me this fear, but of power and a sound mind!…etc.)  In that example, I used the name above all names, for it's only His authority that can cast them off of you and I used two passages of scripture and changed them to make it a personal declaration.  That's how you fight them off.  It may take time, so don't get discouraged if they don't leave immediately, but THEY WILL LEAVE!
Listed below are passages that you need to memorize.  Remember, to use these and to successfully have full and complete victory using these methods discussed, you must be a Christian, because these passages are not just "magic words", but must be coupled with being under authority.  It's like this, I can put on a cop's uniform, but that doesn't make me a cop.
Psalm 34:17-18 ESV
When the righteous cry for help, the Lord hears and delivers them out of all their troubles. The Lord is near to the brokenhearted and saves the crushed in spirit.
Isaiah 41:10 ESV
Fear not, for I am with you; be not dismayed, for I am your God; I will strengthen you, I will help you, I will uphold you with my righteous right hand.
Matthew 11:28 ESV
Come to me, all who labor and are heavy laden, and I will give you rest.
1 Peter 5:7 ESV
Casting all your anxieties on him, because he cares for you.
Jeremiah 29:11 ESV
For I know the plans I have for you, declares the Lord, plans for welfare and not for evil, to give you a future and a hope.
Proverbs 3:5-6 ESV
Trust in the Lord with all your heart, and do not lean on your own understanding. In all your ways acknowledge him, and he will make straight your paths.
Psalm 143:7-8 ESV
Answer me quickly, O Lord! My spirit fails! Hide not your face from me, lest I be like those who go down to the pit. Let me hear in the morning of your steadfast love, for in you I trust. Make me know the way I should go, for to you I lift up my soul.
Psalm 30:5 ESV
For his anger is but for a moment, and his favor is for a lifetime. Weeping may tarry for the night, but joy comes with the morning.
Philippians 4:6-7 ESV
Do not be anxious about anything, but in everything by prayer and supplication with thanksgiving let your requests be made known to God. And the peace of God, which surpasses all understanding, will guard your hearts and your minds in Christ Jesus.
Psalm 23:4 ESV
Even though I walk through the valley of the shadow of death, I will fear no evil, for you are with me; your rod and your staff, they comfort me.
Proverbs 12:25 ESV
Anxiety in a man's heart weighs him down, but a good word makes him glad.
Psalm 9:9 ESV
The Lord is a stronghold for the oppressed, a stronghold in times of trouble.
Psalm 34:18 ESV
The Lord is near to the brokenhearted and saves the crushed in spirit.
Romans 12:2 ESV
Do not be conformed to this world, but be transformed by the renewal of your mind, that by testing you may discern what is the will of God, what is good and acceptable and perfect.
2 Timothy 1:7 ESV
For God gave us a spirit not of fear but of power and love and self-control.
Revelation 21:4 ESV
He will wipe away every tear from their eyes, and death shall be no more, neither shall there be mourning, nor crying, nor pain anymore, for the former things have passed away."
John 10:10 ESV
The thief comes only to steal and kill and destroy. I came that they may have life and have it abundantly.
Isaiah 40:31 ESV
But they who wait for the Lord shall renew their strength; they shall mount up with wings like eagles; they shall run and not be weary; they shall walk and not faint.
Deuteronomy 31:8 ESV
It is the Lord who goes before you. He will be with you; he will not leave you or forsake you. Do not fear or be dismayed."
Psalm 3:3 ESV
But you, O Lord, are a shield about me, my glory, and the lifter of my head.
Isaiah 26:3 ESV
You keep him in perfect peace whose mind is stayed on you, because he trusts in you.
Matthew 6:33 ESV
But seek first the kingdom of God and his righteousness, and all these things will be added to you.
Psalm 30:11 ESV
You have turned for me my mourning into dancing; you have loosed my sackcloth and clothed me with gladness,
Psalm 102:1-11 ESV
A Prayer of one afflicted, when he is faint and pours out his complaint before the Lord. Hear my prayer, O Lord; let my cry come to you! Do not hide your face from me in the day of my distress! Incline your ear to me; answer me speedily in the day when I call! For my days pass away like smoke, and my bones burn like a furnace. My heart is struck down like grass and has withered; I forget to eat my bread. Because of my loud groaning my bones cling to my flesh. …
Philippians 4:8 ESV
Finally, brothers, whatever is true, whatever is honorable, whatever is just, whatever is pure, whatever is lovely, whatever is commendable, if there is any excellence, if there is anything worthy of praise, think about these things.
Romans 15:13 ESV
May the God of hope fill you with all joy and peace in believing, so that by the power of the Holy Spirit you may abound in hope.
Psalm 40:1-3 ESV
To the choirmaster. A Psalm of David. I waited patiently for the Lord; he inclined to me and heard my cry. He drew me up from the pit of destruction, out of the miry bog, and set my feet upon a rock, making my steps secure. He put a new song in my mouth, a song of praise to our God. Many will see and fear, and put their trust in the Lord.
Philippians 4:13 ESV
I can do all things through him who strengthens me.
John 16:33 ESV
I have said these things to you, that in me you may have peace. In the world you will have tribulation. But take heart; I have overcome the world."
Matthew 11:28-30 ESV
Come to me, all who labor and are heavy laden, and I will give you rest. Take my yoke upon you, and learn from me, for I am gentle and lowly in heart, and you will find rest for your souls. For my yoke is easy, and my burden is light."
Romans 8:38-39 ESV
For I am sure that neither death nor life, nor angels nor rulers, nor things present nor things to come, nor powers, nor height nor depth, nor anything else in all creation, will be able to separate us from the love of God in Christ Jesus our Lord.
Philippians 4:4 ESV
Rejoice in the Lord always; again I will say, Rejoice.
Psalm 23:1-6 ESV
A Psalm of David. The Lord is my shepherd; I shall not want. He makes me lie down in green pastures. He leads me beside still waters. He restores my soul. He leads me in paths of righteousness for his name's sake. Even though I walk through the valley of the shadow of death, I will fear no evil, for you are with me; your rod and your staff, they comfort me. You prepare a table before me in the presence of my enemies; you anoint my head with oil; my cup overflows. …
Psalm 139:1-24 ESV
To the choirmaster. A Psalm of David. O Lord, you have searched me and known me! You know when I sit down and when I rise up; you discern my thoughts from afar. You search out my path and my lying down and are acquainted with all my ways. Even before a word is on my tongue, behold, O Lord, you know it altogether. You hem me in, behind and before, and lay your hand upon me. …
Jeremiah 1:19 ESV
They will fight against you, but they shall not prevail against you, for I am with you, declares the Lord, to deliver you."
Psalm 77:4 ESV
You hold my eyelids open; I am so troubled that I cannot speak.
1 Peter 1:13-16 ESV
Therefore, preparing your minds for action, and being sober-minded, set your hope fully on the grace that will be brought to you at the revelation of Jesus Christ. As obedient children, do not be conformed to the passions of your former ignorance, but as he who called you is holy, you also be holy in all your conduct, since it is written, "You shall be holy, for I am holy."
Joshua 1:9 ESV
Have I not commanded you? Be strong and courageous. Do not be frightened, and do not be dismayed, for the Lord your God is with you wherever you go."
Psalm 103:1-5 ESV
Of David. Bless the Lord, O my soul, and all that is within me, bless his holy name! Bless the Lord, O my soul, and forget not all his benefits, who forgives all your iniquity, who heals all your diseases, who redeems your life from the pit, who crowns you with steadfast love and mercy, who satisfies you with good so that your youth is renewed like the eagle's.
Matthew 28:20 ESV
Teaching them to observe all that I have commanded you. And behold, I am with you always, to the end of the age."
John 14:18 ESV
"I will not leave you as orphans; I will come to you.
2 Corinthians 7:10 ESV
For godly grief produces a repentance that leads to salvation without regret, whereas worldly grief produces death.
Psalm 40:2 ESV
He drew me up from the pit of destruction, out of the miry bog, and set my feet upon a rock, making my steps secure.
1 Corinthians 10:13 ESV
No temptation has overtaken you that is not common to man. God is faithful, and he will not let you be tempted beyond your ability, but with the temptation he will also provide the way of escape, that you may be able to endure it.
Romans 8:28 ESV
And we know that for those who love God all things work together for good, for those who are called according to his purpose.
Proverbs 15:13 ESV
A glad heart makes a cheerful face, but by sorrow of heart the spirit is crushed.
2 Corinthians 10:4-6 ESV
For the weapons of our warfare are not of the flesh but have divine power to destroy strongholds. We destroy arguments and every lofty opinion raised against the knowledge of God, and take every thought captive to obey Christ, being ready to punish every disobedience, when your obedience is complete.
1 Corinthians 6:19-20 ESV
Or do you not know that your body is a temple of the Holy Spirit within you, whom you have from God? You are not your own, for you were bought with a price. So glorify God in your body.
Habakkuk 3:16-19 ESV
I hear, and my body trembles; my lips quiver at the sound; rottenness enters into my bones; my legs tremble beneath me. Yet I will quietly wait for the day of trouble to come upon people who invade us. Though the fig tree should not blossom, nor fruit be on the vines, the produce of the olive fail and the fields yield no food, the flock be cut off from the fold and there be no herd in the stalls, yet I will rejoice in the Lord; I will take joy in the God of my salvation. God, the Lord, is my strength; he makes my feet like the deer's; he makes me tread on my high places. To the choirmaster: with stringed instruments.
Psalm 27:1-14 ESV
Of David. The Lord is my light and my salvation; whom shall I fear? The Lord is the stronghold of my life; of whom shall I be afraid? When evildoers assail me to eat up my flesh, my adversaries and foes, it is they who stumble and fall. Though an army encamp against me, my heart shall not fear; though war arise against me, yet I will be confident. One thing have I asked of the Lord, that will I seek after: that I may dwell in the house of the Lord all the days of my life, to gaze upon the beauty of the Lord and to inquire in his temple. For he will hide me in his shelter in the day of trouble; he will conceal me under the cover of his tent; he will lift me high upon a rock. …
1 Peter 5:6-7 ESV
Humble yourselves, therefore, under the mighty hand of God so that at the proper time he may exalt you, casting all your anxieties on him, because he cares for you.
John 10:27-31 ESV
My sheep hear my voice, and I know them, and they follow me. I give them eternal life, and they will never perish, and no one will snatch them out of my hand. My Father, who has given them to me, is greater than all, and no one is able to snatch them out of the Father's hand. I and the Father are one." The Jews picked up stones again to stone him.
2 Corinthians 1:4-6 ESV
Who comforts us in all our affliction, so that we may be able to comfort those who are in any affliction, with the comfort with which we ourselves are comforted by God. For as we share abundantly in Christ's sufferings, so through Christ we share abundantly in comfort too. If we are afflicted, it is for your comfort and salvation; and if we are comforted, it is for your comfort, which you experience when you patiently endure the same sufferings that we suffer.
Psalm 42:11 ESV
Why are you cast down, O my soul, and why are you in turmoil within me? Hope in God; for I shall again praise him, my salvation and my God.
Psalm 94:18-19 ESV
When I thought, "My foot slips," your steadfast love, O Lord, held me up. When the cares of my heart are many, your consolations cheer my soul.
Psalm 37:23-24 ESV
The steps of a man are established by the Lord, when he delights in his way; though he fall, he shall not be cast headlong, for the Lord upholds his hand.
Psalm 112:4 ESV
Light dawns in the darkness for the upright; he is gracious, merciful, and righteous.
2 Samuel 22:29 ESV
For you are my lamp, O Lord, and my God lightens my darkness.