Do we need to know demon names so we can have authority over them?  Does understanding demon names help us understand demons themselves.  The answer is "no" and here's why…
Casting out demons comes under the "signs" that follow every true believer and follower of Jesus Christ (Mark 16:17), but there is a great deal of confusion around the subject of "getting demon names" before you can do anything.  The biggest confusion comes from Mark & Luke.  The passages are as follows.
From Mark:
"When he saw Jesus from afar, he ran and worshiped Him. And he cried out with a loud voice and said, "What have I to do with You, Jesus, Son of the Most High God? I implore You by God that You do not torment me."
For He said to him, "Come out of the man, unclean spirit!" Then He asked him, "What is your name?"
And he answered, saying, "My name is Legion; for we are many."" ~Mark 5:6-9 NKJV
From Luke:
"When he saw Jesus, he cried out, fell down before Him, and with a loud voice said, "What have I to do with You, Jesus, Son of the Most High God? I beg You, do not torment me!" For He had commanded the unclean spirit to come out of the man. For it had often seized him, and he was kept under guard, bound with chains and shackles; and he broke the bonds and was driven by the demon into the wilderness.
Jesus asked him, saying, "What is your name?"
And he said, "Legion," because many demons had entered him. And they begged Him that He would not command them to go out into the abyss." ~Luke 8:28-31 NKJV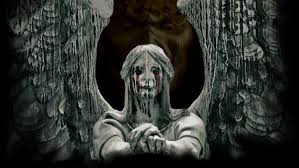 Well, there you go.  If we are to be like our elder brother (Hebrews 2:11, Romans 8:29, Mark 3:34), then we should do what He did and get their names – but that's NOT what Jesus taught his disciples to do.
The various commissions
While Jesus was on Earth, He sent out His disciples out on what I term "minor" & "major" commissions.  The major commissions are the final tasks that He gave His disciples before He ascended into Heaven while the minor commissions are the ones Jesus gave out before He went to the cross.  I will highlight the parts in bold where Jesus is speaking about casting out demons.
The major commissions:
"Then the eleven disciples went away into Galilee, to the mountain which Jesus had appointed for them. When they saw Him, they worshiped Him; but some doubted. And Jesus came and spoke to them, saying, "All authority has been given to Me in heaven and on earth. Go therefore and make disciples of all the nations, baptizing them in the name of the Father and of the Son and of the Holy Spirit, teaching them to observe all things that I have commanded you; and lo, I am with you always, even to the end of the age." Amen."
‭‭Matthew‬ ‭28:16-20‬ ‭NKJV‬‬
"Later He appeared to the eleven as they sat at the table; and He rebuked their unbelief and hardness of heart, because they did not believe those who had seen Him after He had risen. And He said to them, "Go into all the world and preach the gospel to every creature. He who believes and is baptized will be saved; but he who does not believe will be condemned. And these signs will follow those who believe: In My name they will cast out demons; they will speak with new tongues; they will take up serpents; and if they drink anything deadly, it will by no means hurt them; they will lay hands on the sick, and they will recover.""
‭‭Mark‬ ‭16:14-18‬ ‭NKJV‬‬
"Then, the same day at evening, being the first day of the week, when the doors were shut where the disciples were assembled, for fear of the Jews, Jesus came and stood in the midst, and said to them, "Peace be with you." When He had said this, He showed them His hands and His side. Then the disciples were glad when they saw the Lord. So Jesus said to them again, "Peace to you! As the Father has sent Me, I also send you." And when He had said this, He breathed on them, and said to them, "Receive the Holy Spirit. If you forgive the sins of any, they are forgiven them; if you retain the sins of any, they are retained.""
‭‭John‬ ‭20:19-23‬ ‭NKJV‬‬
The minor commissions:
"And when He had called His twelve disciples to Him, He gave them power over unclean spirits, to cast them out, and to heal all kinds of sickness and all kinds of disease. Now the names of the twelve apostles are these: first, Simon, who is called Peter, and Andrew his brother; James the son of Zebedee, and John his brother; Philip and Bartholomew; Thomas and Matthew the tax collector; James the son of Alphaeus, and Lebbaeus, whose surname was Thaddaeus; Simon the Cananite, and Judas Iscariot, who also betrayed Him. These twelve Jesus sent out and commanded them, saying: "Do not go into the way of the Gentiles, and do not enter a city of the Samaritans. But go rather to the lost sheep of the house of Israel. And as you go, preach, saying, 'The kingdom of heaven is at hand.' Heal the sick, cleanse the lepers, raise the dead, cast out demons. Freely you have received, freely give."
‭‭Matthew‬ ‭10:1-8‬ ‭NKJV‬‬
"And He went up on the mountain and called to Him those He Himself wanted. And they came to Him. Then He appointed twelve, that they might be with Him and that He might send them out to preach, and to have power to heal sicknesses and to cast out demons: Simon, to whom He gave the name Peter; James the son of Zebedee and John the brother of James, to whom He gave the name Boanerges, that is, "Sons of Thunder"; Andrew, Philip, Bartholomew, Matthew, Thomas, James the son of Alphaeus, Thaddaeus, Simon the Cananite; and Judas Iscariot, who also betrayed Him. And they went into a house."
‭‭Mark‬ ‭3:13-19‬ ‭NKJV‬‬
"And He called the twelve to Himself, and began to send them out two by two, and gave them power over unclean spirits. He commanded them to take nothing for the journey except a staff—no bag, no bread, no copper in their money belts— but to wear sandals, and not to put on two tunics. Also He said to them, "In whatever place you enter a house, stay there till you depart from that place. And whoever will not receive you nor hear you, when you depart from there, shake off the dust under your feet as a testimony against them. Assuredly, I say to you, it will be more tolerable for Sodom and Gomorrah in the day of judgment than for that city!" So they went out and preached that people should repent. And they cast out many demons, and anointed with oil many who were sick, and healed them."
‭‭Mark‬ ‭6:7-13‬ ‭NKJV‬‬
"Then He called His twelve disciples together and gave them power and authority over all demons, and to cure diseases. He sent them to preach the kingdom of God and to heal the sick. And He said to them, "Take nothing for the journey, neither staffs nor bag nor bread nor money; and do not have two tunics apiece. "Whatever house you enter, stay there, and from there depart. And whoever will not receive you, when you go out of that city, shake off the very dust from your feet as a testimony against them." So they departed and went through the towns, preaching the gospel and healing everywhere."
‭‭Luke‬ ‭9:1-6‬ ‭NKJV‬
"After these things the Lord appointed seventy others also, and sent them two by two before His face into every city and place where He Himself was about to go. Then He said to them, "The harvest truly is great, but the laborers are few; therefore pray the Lord of the harvest to send out laborers into His harvest. Go your way; behold, I send you out as lambs among wolves. Carry neither money bag, knapsack, nor sandals; and greet no one along the road. But whatever house you enter, first say, 'Peace to this house.' And if a son of peace is there, your peace will rest on it; if not, it will return to you. And remain in the same house, eating and drinking such things as they give, for the laborer is worthy of his wages. Do not go from house to house. Whatever city you enter, and they receive you, eat such things as are set before you. And heal the sick there, and say to them, 'The kingdom of God has come near to you.' Then the seventy returned with joy, saying, "Lord, even the demons are subject to us in Your name." And He said to them, "I saw Satan fall like lightning from heaven. Behold, I give you the authority to trample on serpents and scorpions, and over all the power of the enemy, and nothing shall by any means hurt you. Nevertheless do not rejoice in this, that the spirits are subject to you, but rather rejoice because your names are written in heaven.""
‭‭Luke‬ ‭10:1-9, 17-20‬ ‭NKJV‬‬
If you notice, no where did Jesus say to His disciples that "you gotta get their name(s) before casting them out."  The only thing that Jesus
gave them was His Authority and His Name (…Lord, even the demons are subject to us in Your name…).  This is the thing that we must remember – scripture alone is our authority and not what a minister says to do/not to do.  I will submit to you that Jesus, at the time he met the demoniac found in Mark and Luke, decided to ask them for their name, but if getting demon names was important, Jesus, as well as the other authors of the New Testament, would have included such instructions.
Ok fine, we don't need to know their names, but do they have them?
The answer is yes.  There are several instances in the Old and New Testament where a "spirit" is named.
In the Old Testament:
Jealousy/ jealousy/ feelings of jealousy Numbers 5: 14, 30
Ill will/ evil /evil Judges 9: 23
Distressing/ evil/ evil 1 Samuel 16: 14–23; 18: 10; 19: 9
Lying/ deceiving/ lying 1 Kings 22: 22; 2 Chronicles 18: 20–22
Perverse/ distortion/ dizziness Isaiah 19: 14
Deep sleep/ deep sleep/ deep sleep Isaiah 29: 10
Heaviness/ fainting/ despair Isaiah 61: 3
Harlotry/ harlotry/ prostitution Hosea 4: 12; 5: 4
Unclean/ unclean/ impurity Zechariah 13: 2
In the New Testament:
Mute/ mute/ robbed of speech Mark 9: 17
Deaf and dumb/ deaf and dumb/ deaf and mute Mark 9: 25
Infirmity/ causing sickness/ crippling Luke 13: 11
Divination/ divination/ predicting the future Acts 16: 16
Deceiving/ deceitful/ deceiving 1 Timothy 4: 1
Fear/ timidity/ timidity 2 Timothy 1: 7
Error/ error/ falsehood 1 John 4: 6
While demon names are given as well as used by Jesus and other Apostles, there are no instructions given to us to utilize these names when casting them out, but there is one name that should/needs to be used as well as having His authority (Luke 10:17).  We also have to remember that every last demon/unclean spirit/evil spirit lies, for they work for the father of lies (John 8:44).
Many a pastor, as well as books and videos, have talked about how to get demon names and the fact that you need to "know their name" before you can exercise your authority over them.  The only time where any disciple had an issue with not being able to cast out a demon(s) occurred only once and it was only because it was a "different kind" (Matthew 17:21, Mark 9:29).  Authority given by the only one who can give it (Jesus Christ), faith in that authority, and a willingness to exorcise that authority are the only qualifiers needed for any disciple of Jesus to cast out any and all demon(s) from a person.  It's not left up only to priests, but to all who have been accepted into the family by accepting the free gift of salvation offered by Jesus Christ.