Scooby Doo, that wonderful cartoon from the 70s, really taught me a lot about how to approach a mystery.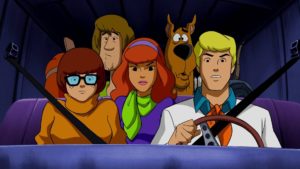 Scooby Doo was a staple TV show in my childhood and I loved seeing the gang solve their mysteries.  They used deductive reasoning and didn't give in to being scared,..well, at least some of them.  Scooby and Shaggy, man, what a pair.  They made the show, to be sure, but I got a little annoyed at how tightly wound they were.  The show was great until…….Scrappy, and his "puppy power" nonsense.  I know quite understand why the producers of the show felt the need to upset the apple cart and introduce a totally annoying character.  I believe that this was the first time I ever got mad at a cartoon.  Still, the show hold many a happy memory for me.
Only 60 days left…
Lyrics:
Scooby Dooby Doo, Where are you
We've got some work to do now
Scooby Dooby Doo, Where are you
We need some help from you now
Come on, Scooby Doo, I see you
pretending you've got a sliver
But you're not fooling me, cause I can see
the way you shake and shiver
You know we've got a mystery to solve so Scooby Doo
be ready for your act
Don't hold back!
And Scooby Doo if you come through you're gonna have
yourself a
Scooby Snack!
That's a fact!
Scooby Dooby Doo, here are you
You're ready and you're willing
If we can count on you Scooby Doo
I know we'll catch that villian
Song requests: http://bit.ly/1Nj1Hlf
Help @ GoFundMe: http://bit.ly/1UyZEvu
#undertheoverpass
You can follow / catch up, make song requests and help support this odyssey at the links above. I will keep this GoFundMe cause open throughout the year and close it out once this is over and present the check to the shelter where it will help a lot of critters. Check out the critters at http://greenhillsanimalshelter.org.