The present tactical advantage that Satan has in this world is us.  He uses humanity as proxies to do the one thing he can't – defy God.
I have been in so many situations at work, and at home, where things just tick me off.  Whether it's something said that was hurtful, something done that took something away from me, the result has, in the past, been for me to lose my temper and seek justice/revenge.  Over the years, I've learned that the path of anger is wrought with unfavorable consequences, but it's within the last 3 years that I realized that the things I did to avenge my own wrongs took God out of the picture in more ways that one.
In the beginning…
We all know the story of Adam & Eve.  A snake (Satan) came along and convinced the woman (she hadn't gotten the name "Eve" until later) to eat the forbidden fruit, Adam took a bite, and God kicked them out of Eden.
But when you look more closely at the timing of these events, you can't help but wonder if the Devil had a plan.
Before "the incident," God gave Adam dominion over the entire Earth (Genesis 1:28).  What Adam said was how it would be (Genesis 2:19).  This was not only Adam's authority, it was Eves as well.  Basically, what was said and done by the first man and woman would be done, just like God.
Now, here comes Satan and tempts them to do the whole disobeying God thing, but catch the timing – it was AFTER God had given the man and woman dominion!
It is my considered opinion that Satan waited to help with the fall after God had given dominion to Adam & Eve.  Demons, and even Satan himself, are subject to the Will of God and can't go against it when a direct command is given to them by those who have been given authority and the One who has ultimate authority (Luke 10:19).  Now, I'm not saying that God was caught off guard, quite the contrary, God knew it was going to happen.  It's in this area that I just have to accept what is and not worry about the answers, as they will be provided when I stand face-to-face with Jesus after I leave my earthly tent.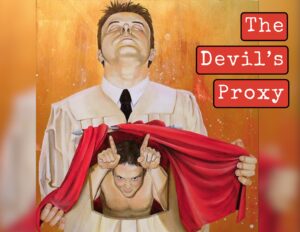 The Devil's Proxys.
Humanity are the only sentient creatures that can willfully defy the Will of God (Genesis 3:1-7).  Because of this, the Devil and company uses us as proxies to defy God.  They can tempt, they can whisper, they can prod us into action, but in the end, we take action, and ultimately, we are left picking up the check.  Because of the present status quo, any actions that we take on our own behalf when it comes to the issue of anger, takes away the actions of God.  When we make our choices to avenge our loss due to theft, our character at the slanderous words of wicked people, we are left with the meager consequences of our results – our reward in full (Matthew 6:5).
Ok, so what do I do when someone screws with me?
The re-training of our actions after Salvation is key (Romans 12:2).  We must do what is right and true in the Will of God if we are to see the fullness of justice in instances where it is needed (Luke 18:1-8).  This will feel counter to what we have been programmed to do since the cradle, but I'm here to tell you that God's Path is better, and I have first hand experience in this matter.  Remember who you are in Christ, and rely on these promises found in scripture:
"No weapon that is formed against thee shall prosper; and every tongue that shall rise against thee in judgment thou shalt condemn. This is the heritage of the servants of the Lord, and their righteousness is of me, saith the Lord." ~‭‭Isaiah‬ ‭54:17‬ ‭KJV‬‬
"Dearly beloved, avenge not yourselves, but rather give place unto wrath: for it is written, Vengeance is mine; I will repay, saith the Lord. Therefore if thine enemy hunger, feed him; if he thirst, give him drink: for in so doing thou shalt heap coals of fire on his head. Be not overcome of evil, but overcome evil with good." ~‭‭Romans‬ ‭12:19-21‬ ‭KJV‬‬
The takeaway.
Time and time again, I've seen Christians walk that walk, letting God handle their injustices, and time and time again, I've seen things play out far better than anything they could have done with their own hands, mouth, or actions.  I've seen money restored (and then some) to those who have been the victims of theft.  I've seen jobs replaced with better ones when individuals have gotten unjustly fired (first hand experience).  I've seen people get their just due when I forgive them for what they said to me, all in front of my eyes.  I've seen entire institutions, powerful workers within prestigious government institutions and courts fall to the one and only Jehovah Nissi fighting for His Kids.
Always remember, if a good Father or Mother would fight for their kids when a bully picks on them and replace whatever they stole, what do you think God will do (Matthew 7:11)?