Fat Albert was a cartoon I happily grew up with. You learn something, laugh and listen to the group play music, what could have been better for a young kiddo.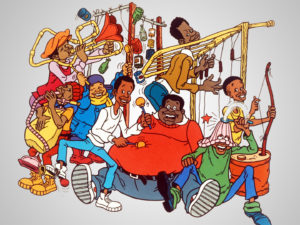 As a little kid growing up in the 70s, you couldn't miss Fat Albert on Saturday mornings. I can still remember Bill, Russel, Mush Mouth, Weird Harold, Rudy and the rest teaming up with Fat Albert learning life's lessons. The best part, for me, was hearing about what they learned through song with their self-made instruments. Fat Albert was a very happy memory for me and it was a blast to do the theme song from this 70s cartoon.
Lyrics:
Hey, hey, hey! It's Fat Albert
And I'm gonna sing a song for you
And this is gonna show you A thing or two
You'll have some fun now With me and the gang
Learning from each other
While we do our thang na, na, na
Gonna have a good time na, na, na
Gonna have a good time hey, hey, hey!
This is Bill Cosby coming out with music and fun
If you're not careful, you may learn something before it's done!
Hey, hey, hey!
Na, na, na
Gonna have a good time
Hey, hey, hey!
Na, na, na
Gonna have a good time
Hey, hey, hey!
Read more: Soundtrack Artists – Fat Albert Theme Song Lyrics | MetroLyrics
Song requests: http://bit.ly/1Nj1Hlf
Help @ GoFundMe: http://bit.ly/1UyZEvu
#undertheoverpass
You can follow / catch up, make song requests and help support this odyssey at the links above. I will keep this GoFundMe cause open throughout the year and close it out once this is over and present the check to the shelter where it will help a lot of critters. Check out the critters at http://greenhillsanimalshelter.org.