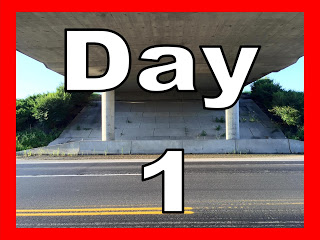 Ok, I'm going to go ahead and admit that I don't have a voice for country songs BUT I had to sing this little ditty as it was the most requested tune to date. I first did this tune when I was a youngin' at Hershey Pennsylvania in a karaoke booth in a mall. When going up to the high notes, my voice cracked and I was embarrassed. Needless to say that while this song is a good one, my memory of it is not BUT I sucked it up and did it anyway.
I learned a couple of things:
1. Getting up this early makes NO DIFFERENCE with regard to traffic
2. I must turn my phone to "Airplane Mode" as I got a call in the middle of recording
I will say that I didn't know what to think when, in walking out to the overpass, a skunk crossed my path. Hmmm….
You can follow / catch up at the 1st link below, make song requests and help support this odyssey. ALL proceeds will go to the Green Hills Animal Shelter in Trenton, MO (http://greenhillsanimalshelter.org). I will keep this GoFundMe cause open throughout the year and close it out once this is over and present the check to the shelter where it will help a lot of critters.
Follow: http://bit.ly/1f3uf4n
Song requests: http://bit.ly/1Nj1Hlf
Help @ GoFundMe: http://bit.ly/1UyZEvu
#undertheoverpass