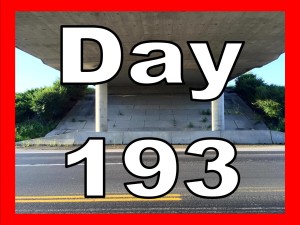 In keeping with the TV themes I seem to be stuck on, The Addams Family was a spooky log.  Here are the lyrics to this TV sitcom:
They're creepy and they're kooky,
Mysterious and spooky,
They're altogether ooky,
The Addams Family.

Their house is a museum
When people come to see 'em
They really are a scream
The Addams Family.

(Neat)
(Sweet)
(Petite)

So get a witch's shawl on
A broomstick you can crawl on
We're gonna pay a call on
The Addams Family.
Song requests: http://bit.ly/1Nj1Hlf
Help @ GoFundMe: http://bit.ly/1UyZEvu
#undertheoverpass
You can follow / catch up, make song requests and help support this odyssey at the links above. I will keep this GoFundMe cause open throughout the year and close it out once this is over and present the check to the shelter where it will help a lot of critters. Check out the critters at http://greenhillsanimalshelter.org.

Please follow and like us: