"She's Your Queen" from Coming To America was so funny to sing because of the backstory.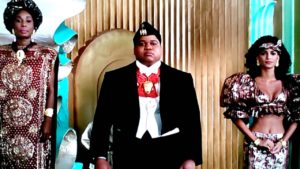 "She's Your Queen" was a song I first heard many decades ago, and several times since then, from the Eddie Murphy movie Coming to America.  I performed this piece, of all places, at a wedding when I married my best friend and his now wife (yes, I'm ordained in the state of Missouri).
Jim had asked me to do this song and I'll admit that I was a little apprehensive about the whole thing.  It's a funny tune, but for real…at a wedding?  I said "yes" and prepared for the upcoming nuptials.  The ceremony began and I was reading my part to the happy couple.  The crowd was silent and smiling, my best friend looked at me with eager anticipation and I broke out in bellowing falsetto!  I heard gasps, chuckles and the eyes of the beautiful bride went as wide as saucers, but the piece was a success.  I'll never forget that moment for as long as I live and I don't think they will either.  A very happy memory.
Only 54 days left…
Lyrics:
She's your Queen-to-be.
A Queen-to-be forever.
A Queen who'll do whatever his highness desires.
She's your Queen-to-be.
A vision of perfection. An object of affection to quench your royal fire.
Completely free from infection.
To be used at your discretion.
Waiting only for your direction.
Your Queen-to-be.
Song requests: http://bit.ly/1Nj1Hlf
Help @ GoFundMe: http://bit.ly/1UyZEvu
#undertheoverpass
You can follow / catch up, make song requests and help support this odyssey at the links above. I will keep this GoFundMe cause open throughout the year and close it out once this is over and present the check to the shelter where it will help a lot of critters. Check out the critters at http://greenhillsanimalshelter.org.