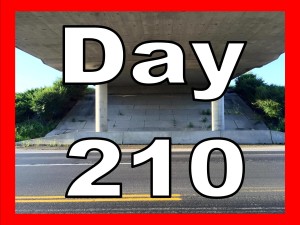 Today, with all the worshiping of Jesus at church and elsewhere, my heart is really drawn to Jesus today. I know I've done this Keith Green piece under the overpass, and it will be the first time I've repeated a song here, but my heart just ached to sing this song once more.
The lyrics:
Oh Lord, You're beautiful
Your face is all I seek
For when Your eyes are on this child
Your grace abounds to me
Oh Lord, please light the fire
That once burned bright and clean
Replace the lamp of my first love
That burns with holy fear
I wanna take Your Word and shine it all around
But first help me just to live it, Lord
And when I'm doing well, help me to never seek a crown
For my reward is giving glory to You.
Song requests: http://bit.ly/1Nj1Hlf
Help @ GoFundMe: http://bit.ly/1UyZEvu
#undertheoverpass
You can follow / catch up, make song requests and help support this odyssey at the links above. I will keep this GoFundMe cause open throughout the year and close it out once this is over and present the check to the shelter where it will help a lot of critters. Check out the critters at http://greenhillsanimalshelter.org.