Nick Winter's "Star Wars",..yeah…Bill Murray's rendition has been forever stuck in my mind since 1978.  Such a cultural influence on a 10 year old boy.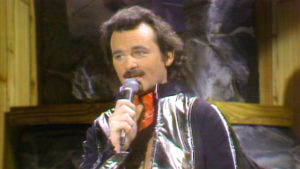 The hit movie from 1977 took a dramatic re-inventing from the character Nick Winter, an invention by the writers of Saturday Night Live.  In the lounge lizard act so wonderfully played by Bill Murray, the audience is given a creative interpretation of what it might have been like if John Williams put a libretto to his most popular theme.
Since I'm nearing the end of this creative journey, I wanted to share my thoughts thus far.  The video can be found below today's song.
Only 26 days left…
Lyrics:
Ah.. Star Wars!
Nothing but Star Wars!
Gimme those Star Wars..
don't let them end!
Ah..
Star Wars!
If they should bar wars..
please let these Star Wars stay-ay!
And, hey! How about that nutty Star Wars bar?
Can you forget all those creatures in there?
And, hey! Darth Vader in that black and evil mask –
did he scare you as much as he scared me-e-e-e?"
[ turns and screams when he finds Paul the Pianist wearing a Darth Vader mask ]
My seventh winter up here! [ singing ] "Star Wars-s-s-s!"
Song requests: http://bit.ly/1Nj1Hlf
Help @ GoFundMe: http://bit.ly/1UyZEvu
#undertheoverpass
You can follow / catch up, make song requests and help support this odyssey at the links above. I will keep this GoFundMe cause open throughout the year and close it out once this is over and present the check to the shelter where it will help a lot of critters. Check out the critters at http://greenhillsanimalshelter.org.
My thoughts on the Under the Overpass project