La donna e mobile, I've done it before, I think, but I was in such good voice and the song has been on my mind lately, I decided to do it again.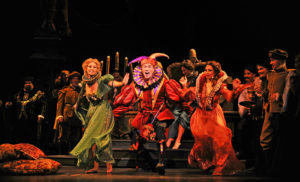 La donna e mobile, one of the most famous Tenor Arias around, was one of the first songs of Opera I ever heard.  I was always amazed at how the great Tenors could make the song come alive.  Even though I couldn't understand the words, I got the gist of what they were talking about.  While many people would say that Pavarotti was their performer of choice for this song, my favorite has always been Domingo.  I've always loved the more dramatic voices and longed to be a Dramatic Tenor.  Now that I've gotten a little older, my voice has gotten darker and I can pull off some of the arias that were once out of my Lyrical Tenor voice.  I am grateful for all the teachers I've had in the past.  They have kept my voice healthy and safe, so I can enjoy better singing at an older age.
Only 81 days left…
Lyrics:
Italian Text
La donna è mobile
Qual piuma al vento,
Muta d'accento — e di pensiero.
Sempre un amabile,
Leggiadro viso,
In pianto o in riso, — è menzognero.
È sempre misero
Chi a lei s'affida,
Chi le confida — mal cauto il cuore!
Pur mai non sentesi
Felice appieno
Chi su quel seno — non liba amore!
English Translation of "La donna e mobile"
Woman is flighty
Like a feather in the wind,
She changes her voice — and her mind.
Always sweet,
Pretty face,
In tears or in laughter, — she is always lying.
Always miserable
Is he who trusts her,
He who confides in her — his unwary heart!
Yet one never feels
Fully happy
Who on that bosom — does not drink love!
Song requests: http://bit.ly/1Nj1Hlf
Help @ GoFundMe: http://bit.ly/1UyZEvu
#undertheoverpass
You can follow / catch up, make song requests and help support this odyssey at the links above. I will keep this GoFundMe cause open throughout the year and close it out once this is over and present the check to the shelter where it will help a lot of critters. Check out the critters at http://greenhillsanimalshelter.org.