Revive Us Again, like all hymns has a very interesting back story.  This hymn centers around a doctor and a found Bible.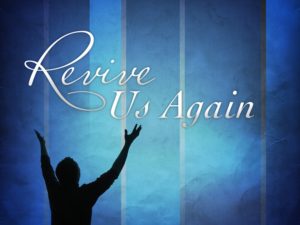 Revive Us Again was written by a Scottish Doctor who was not a believer in Jesus Christ.  As a child, his mother wrestled in prayer in hopes that her song would come to the Lord, but to no avail.  As he got older, he got more wicked.  William Mackay grew up to be a Doctor.  One day, a laborer came into the hospital and, at once, William knew that his injuries were too severe and the man knew it as well.  Dr. Mackay asked the man if there was anything he could do.  The man asked for his landlady, as he owed her a small debt.  He wanted her to be there to comfort him as he neared the end and to bring him "The Book".  As the man lay dying, a strange peace and smile came over his face as he passed.  The landlady came with "The Book" and the last bit of business was done in front of William.  Dr. Mackay asked about the book, which, he found out was the man's Bible that he read whenever he could.  When he wasn't reading it, he kept it under the mattress of his bed.  When William picked up the Bible to open it, a shock came over his face as he realized that it was his Bible that he had as a little boy.  His name was written on the inside by the loving hand of a praying mother.  William had sold it to get money many, many years ago.  It was at that time, receiving his childhood Bible that he came to the Lord.
Only 20 days left…
Lyrics:
We praise Thee, O God!
For the Son of Thy love,
For Jesus Who died,
And is now gone above.
Refrain:
Hallelujah! Thine the glory.
Hallelujah! Amen.
Hallelujah! Thine the glory.
Revive us again.
We praise Thee, O God!
For Thy Spirit of light,
Who hath shown us our Savior,
And scattered our night.
All glory and praise
To the Lamb that was slain,
Who hath borne all our sins,
And hath cleansed every stain.
All glory and praise
To the God of all grace,
Who hast brought us, and sought us,
And guided our ways.
Revive us again;
Fill each heart with Thy love;
May each soul be rekindled
With fire from above.
Song requests: http://bit.ly/1Nj1Hlf
Help @ GoFundMe: http://bit.ly/1UyZEvu
#undertheoverpass
You can follow / catch up, make song requests and help support this odyssey at the links above. I will keep this GoFundMe cause open throughout the year and close it out once this is over and present the check to the shelter where it will help a lot of critters. Check out the critters at http://greenhillsanimalshelter.org.