The Saddest Strawberry in the Land is an original song from an original animation I created.  This marks the start of my "re-focus and re-fire".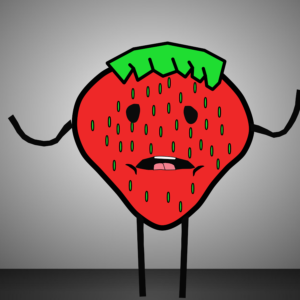 The Saddest Strawberry in the Land is something that just came to me when I was working on my animation "Sad Sam, the Strawberry Man".  While I have the underpass video up, I've also put up the animation with background music I also created.  I decided to contrast the voices; the underpass took on a more "legitimate" style while the animation voice was in keeping with Sad Sam's voice, or what I hear his voice to be in my head.
I love video and animation is my favorite genre.  For many, many years, I've marveled at individuals who can take the imagery in their heads and put it out for the world.  I can't paint, but I'm learning how to illustrate and I'm loving every minute of it.  I have a ways to go before I would call myself a legit animator, but I'm getting better.  I love my job at the shelter, but I'm looking at a "re-focus and re-fire" time happening in the future.  It is my hope that animation creation will be something I can make a little money.  It would be cool to continue to do the things I love AND  get paid as well.
Only 49 days left…
Lyrics:
I'm the saddest strawberry in the land
I try to do the best that I can.
All I want is to be free
But all the people just want to eat me.
I'm the saddest strawberry that I know
I wish that I could go dig a hole,
But alas I know that's not my fate
I'll be eaten up with ice cream and chocolate cake.
Song requests: http://bit.ly/1Nj1Hlf
Help @ GoFundMe: http://bit.ly/1UyZEvu
#undertheoverpass
You can follow / catch up, make song requests and help support this odyssey at the links above. I will keep this GoFundMe cause open throughout the year and close it out once this is over and present the check to the shelter where it will help a lot of critters. Check out the critters at http://greenhillsanimalshelter.org.
Under the Overpass
"The Saddest Strawberry in the Land"