Be Still My Soul is a hymn that I haven't heard in years.  It's one of those songs that has a sensitivity in it's melody.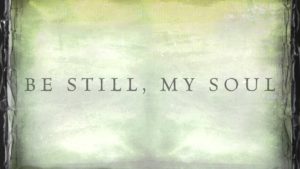 Be Still My Soul was sung this morning during church by a wonderful Soprano by the name of Elizabeth Gibson.  Her sweet voice reminded me of how wonderful this hymn was.  It was also made better by her being accompanied by my wife Sonja.  It's wonderful when two talented people come together to sing something wonderful, or by that matter, share their gifts to give glory to God.  Since this morning, the hymn has been going through my head all day, which is why I did it for day 293.
I had some company as you will see at the end of the video.  Thanks Joe for giving me a ride and for listening.
Only 72 days left…
Lyrics:
Be still, my soul: the Lord is on thy side.
Bear patiently the cross of grief or pain.
Leave to thy God to order and provide,
who through all changes faithful will remain.
Be still, my soul: thy best, thy heavenly Friend
through thorny ways leads to a joyful end.
Be still, my soul: thy God doth undertake
to guide the future surely as the past.
Thy hope, thy confidence let nothing shake;
all now mysterious shall be bright at last.
Be still, my soul: the waves and winds still know
his voice who ruled them while he dwelt below.
Be still, my soul: the hour is hastening on
when we shall be forever with the Lord;
when disappointment, grief, and fear are gone,
sorrow forgot, love's purest joys restored.
Be still, my soul: when change and tears are past
all safe and blessed we shall meet at last.
Song requests: http://bit.ly/1Nj1Hlf
Help @ GoFundMe: http://bit.ly/1UyZEvu
#undertheoverpass
You can follow / catch up, make song requests and help support this odyssey at the links above. I will keep this GoFundMe cause open throughout the year and close it out once this is over and present the check to the shelter where it will help a lot of critters. Check out the critters at http://greenhillsanimalshelter.org.