The Trumpet Shall Sound, the triumphant Aria for Bass is my favorite song from my most favorite Oratorio, "The Messiah".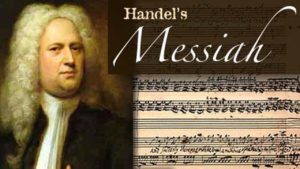 The Trumpet Shall Sound is not only triumphant because of the Bass, but because of the prophetic promise found in the Bible (1 Corinthians 15:51-52). Handel's libretto (or text) was written by Charles Jennens, who put the text together from various passages found within the Bible. I wanted to do this song early in the morning before my voice was warmed up so I could pull off the Bass Aria. While I was doing it, the traffic seemed to get worse and I about ditched the effort for a later day, but I decided to keep it for the symbolism of the vehicles. You see, the text speaks of prophecy, of the time of Christ's second coming and the rapture of those who died in Christ, as well as the ones who are "like Him". Prophecy is often neglected by much of the church and is scorned by the world at large. To me, singing this piece, being interrupted by the people in the cars going to their jobs, was a just analogy of how people often ignore the signs we see, but how the words remain, no matter how hard we choose to ignore their message.
Only 96 days left…
Lyrics:
Behold, I tell you a mystery; we shall not all sleep, but we shall all be changed in a moment, in the twinkling of an eye, at the last trumpet.
The trumpet shall sound and the dead shall be raised incorruptible, and we shall be changed.
For this corruptible must put on incorruption, and this mortal must put on immortality.
Song requests: http://bit.ly/1Nj1Hlf
Help @ GoFundMe: http://bit.ly/1UyZEvu
#undertheoverpass
You can follow / catch up, make song requests and help support this odyssey at the links above. I will keep this GoFundMe cause open throughout the year and close it out once this is over and present the check to the shelter where it will help a lot of critters. Check out the critters at http://greenhillsanimalshelter.org.