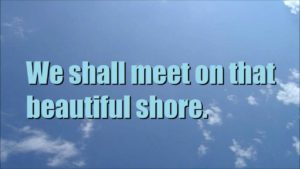 In 1868, a pharmacist named Sanford Fillmore Bennett, 31, was filling prescriptions and handling sales at his apothecary in Elkhorn, Wisconsin. His friend Joseph Webster entered the store. Joseph was a local musician, vocalist, violinist, and amateur composer who suffered from periods of depression. The two men had occasionally collaborated on hymns and songs. Sanford writing the words and Joseph the music.
On this particular day. Joseph was unusually blue and his face was long. Looking up. Sanford asked, "What is the matter now?"
"It's no matter," Joseph replied. "it will be all right by and by."
An idea for a hymn hit Sanford like a flash of sunlight. Sitting at his desk, he began writing as fast as he could. 'l'he \\ords came almost instantly. Two customers entered the drugstore, but no attempt was made to assist them—Sanford was too absorbed in his poem—so they sallied over to the stove and yisited with Joseph. finally, Sanford rose and joined them. handing a sheet of paper to his friend.
"Here is your prescription. Joe." he said. "I hope it works." Webster read the words aloud:
Instantly a tune suggested itself, and Joseph jotth down some notes. Picking up his fiddle, he played his melody over a time or two, then said to the others, "We four make a good male quartet. Let's try the new song and see how it sounds."
As "Sweet By and By" was being sung for the first time, another customer, R. R. Crosby, entered the store. "Gentlemen," he said, "I never heard that song before
but it is immortal." He was right. For over a hundred years we've been Singing an immortal hymn that was written in less than thirty minutes in a drugstore.
Only 21 days left…
Lyrics:
There's a land that is fairer than day,
And by faith we can see it afar;
For the Father waits over the way
To prepare us a dwelling place there.
Refrain:
In the sweet by and by,
We shall meet on that beautiful shore;
In the sweet by and by,
We shall meet on that beautiful shore.
We shall sing on that beautiful shore
The melodious songs of the blessed;
And our spirits shall sorrow no more,
Not a sigh for the blessing of rest.
To our bountiful Father above,
We will offer our tribute of praise
For the glorious gift of His love
And the blessings that hallow our days.
Song requests: http://bit.ly/1Nj1Hlf
Help @ GoFundMe: http://bit.ly/1UyZEvu
#undertheoverpass
You can follow / catch up, make song requests and help support this odyssey at the links above. I will keep this GoFundMe cause open throughout the year and close it out once this is over and present the check to the shelter where it will help a lot of critters. Check out the critters at http://greenhillsanimalshelter.org.

Please follow and like us: