Silent Noon, another song from Ralph Vaughn Williams song cycle "The House of Life", was a favorite of mine in college (Go Griffins).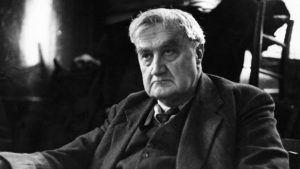 Silent Noon was, more or less, worn out on the record that I always seemed to listen to in the music library at Missouri Western State College.  It was my favorite song in the cycle and I loved the Tenor that performed it.  Anthony Rolfe Johnson. was one of my favorite Tenors during that time, as well as today, that performed both "The House of Life" and "Songs of Travel".  Most days throughout the week, I would walk into the library and grab several records (yeah, I'm old) and let time go by.  This record, Handel's Messiah and Dietrich Fischer Dieskau were my trio of enjoyment throughout my musical years.
Only 28 days left…
Lyrics:
Your hands lie open in the long fresh grass,—
The finger-points look through like rosy blooms:
Your eyes smile peace. The pasture gleams and glooms
'Neath billowing skies that scatter and amass.
All round our nest, far as the eye can pass,
Are golden kingcup fields with silver edge
Where the cow-parsley skirts the hawthorn-hedge.
'Tis visible silence, still as the hour-glass.
Deep in the sun-searched growths the dragon-fly
Hangs like a blue thread loosened from the sky:—
So this wing'd hour is dropt to us from above.
Oh! clasp we to our hearts, for deathless dower,
This close-companioned inarticulate hour
When twofold silence was the song of love.
Song requests: http://bit.ly/1Nj1Hlf
Help @ GoFundMe: http://bit.ly/1UyZEvu
#undertheoverpass
You can follow / catch up, make song requests and help support this odyssey at the links above. I will keep this GoFundMe cause open throughout the year and close it out once this is over and present the check to the shelter where it will help a lot of critters. Check out the critters at http://greenhillsanimalshelter.org.

Please follow and like us: