IL Divo's song "Mama" is a beautiful song performed by 4 excellent Tenors.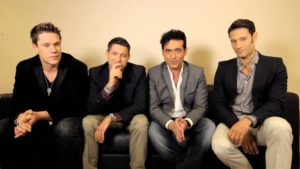 Mama is a perfect song for Mother's Day. I had it slated to do on Sunday, but I wanted to make sure that I didn't forget so today was it. Happy early Mother's Day Mom. I will go ahead and admit that I changed the lyrics around a tad. The song is a song of longing from a son to a Mother that passed away, hence "I miss you". I changed the words to "I love you" instead. I'm sure that the writers of the piece won't mind and will understand my reasons for doing so.
Lyrics:
Mama thank you for who I am
Thank you for all the things I'm not
Forgive me for the words unsaid
For the times
I forgot
Mama remember all my life
You showed me love, you sacrificed
Think of those young and early days
How I've changed
Along the way (along the way)
And I know you believed
And I know you had dreams
And I'm sorry it took all this time to see
That I am where I am because of your truth
And I miss you , I miss you
Mama forgive the times you cried
Forgive me for not making right
All of the storms I may have caused
And I've been wrong
Dry your eyes (dry your eyes)
Mama I hope this makes you smile
I hope you're happy with my life
At peace with every choice I made
How I've changed
Along the way
And I know you believed in all of my dreams
And I owe it all to you mama
Song requests: http://bit.ly/1Nj1Hlf
Help @ GoFundMe: http://bit.ly/1UyZEvu
#undertheoverpass
You can follow / catch up, make song requests and help support this odyssey at the links above. I will keep this GoFundMe cause open throughout the year and close it out once this is over and present the check to the shelter where it will help a lot of critters. Check out the critters at http://greenhillsanimalshelter.org.

Please follow and like us: